So the number one question we get as marketers is, how can I get my business out in front of lots of potential customers? The other questions we hear are, What is a Google Business Profile and how do you use it? Or, how do I set up a Google business profile? Does a Google business profile really work? 
Google business profile (GMB, formerly known as Google My Business) is a great place to list your business for showing up in search results. We've said it before and the numbers show it to be true. No one has ever said let's just BING it, or let's Yahoo it. Everyone says just Google it! In fact Google has 92.54% of the global market share when it comes to search engine market stats 2020. Bing is 2.44% and Yahoo is 1.64% with everyone else making up the rest. (webfx .com / What is the most used search engine as of 2020) 
Google provides you with tools like business description, photos, post updates, product section, hours of operation, Q&A about your business, customer direction using maps and location, Phone calls to your business, how customers find you on Google (direct or organic search) 
This information is provided to you with Google Insights (Google Analytics) to help you decide how to better market your business and interact with them. 
Here are some interesting stats on Google Business Profile usage.
None of the stats are from The Salt Net. Every source of information is properly attached to each statistic.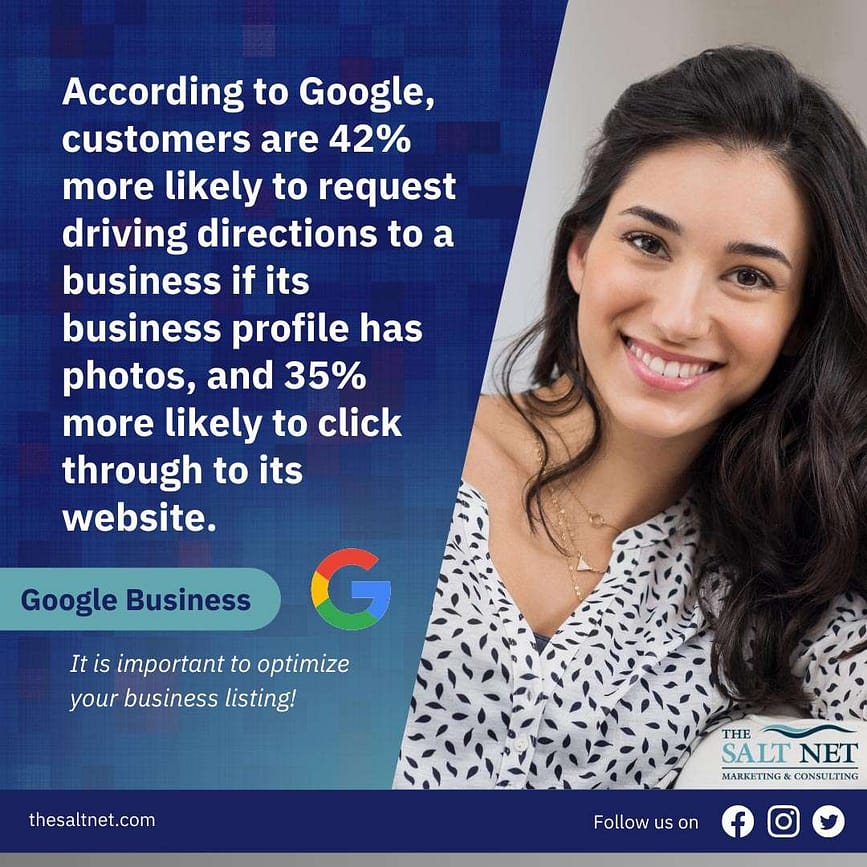 In fact Forbes said this about Google Business Profile (Formerly known as GMB)
Google My Business (GMB) is no longer optional — it's an essential part of any business's online presence and often the first place customers look for up-to-date information about your company. In the age of Covid-19, this is more true than ever. 
If your customers want to find your new opening hours or want to call you to inquire about your health and safety protocols, you can bet they probably aren't going to crack open the Yellow Pages. Instead, they're going to Google your business's name and check the right-hand panel for the information they need. If it's not there, they might look elsewhere.
So you see, your Google business profile allows you to stand out from your competitors if you are using it to its full potential. The biggest thing is to get your NAP right and NAP stand for Name, Address and Phone number. This needs to be consistent throughout all your business listings on the internet. If you list your business on any site it is extremely important to be consistent with this information. Otherwise you could be sending the wrong message to the search engines and they will not know what to serve up to the right people. Think of the old Yellow pages for those that remember those listings. Well that is kinda what you have with Google but very updated and more easily accessible for potential customers with Google Business Profiles. Did we mention it's FREE to have your business profile. 
If you have questions about setting up your profile or need help managing and optimizing then contact us and we will be glad to assist you. Oh, and if you need to just Google us at The Salt Net Marketing and Consulting.